Engine Fitters specialize in replacement Range Rover engines. We supply and fit reconditioned and used engines for all Range Rover models. If your petrol or diesel Range Rover's engine is giving you problems or has completely blown, we offer the perfect solution. You can get a replacement engine from our ready to fit stock or we can rebuild your old engine to give out a new like performance.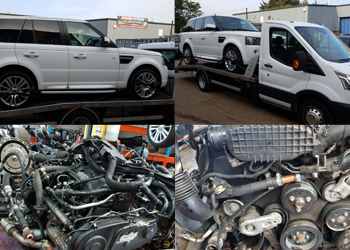 Largest Stock of Used & Reconditioned Range Rover Engines
Are you facing Range Rover engine problems? We can understand that it is very tough to find a cheap replacement engine for Land Rover. It really isn't an easy task for a busy person and it is even harder when he or she has limited knowledge of engines, but Engine Fitters offers the best way out for your engine search. We have all kinds of reconditioned and used Range Rover engines in stock, so, in order to get the correct engine for your vehicle simply contact us or view prices and stock online by entering your Range Rover registration number above.
Range Rover Engine Fitting & Delivery
Our engine fitting services will save you a lot of money and time. Engine Fitters has a fully equipped modern garage and qualified staff. We can also deliver your chosen Range Rover engine or engine part to your home or garage. Get your Range Rover engine today from Engine Fitters and enjoy our competitive rates
What are the common problems in Range Rover engines?
The common problems on the Land Rover and Range Rover 2.7 TDV6 (276DT) & 3.0 TDV6 (306DT) and 3.6 are: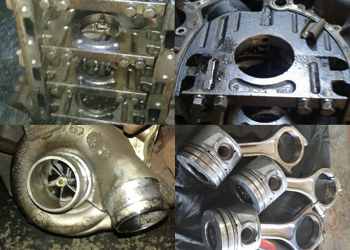 They suffer from oil pump pressure issues. As a result of this design flaw the Crankshafts hugely suffer drastic damage.
Another Design error is associated around the Oil pump tensioner bolt fitting where the timing belt Idler pulley fails and causes the Oil pump housing to break away from the body of the Oil pump resulting in the Engine being forced out of timing. This causes the camshafts that are run by timing chain and tensioners to force the valves to open and close at the wrong timing hence causing damage to the valves and also causing the camshafts to bend.
In the TDV8 (368DT) the common cause for Engine failure is where the Loss of oil pump pressure causes the Primary and Secondary Turbo's to ingest excess oil as a result of oil pressure compensation resulting in Engine seizure.
How to avoid getting into these engine problems?
Here are a few tips which can help you avoid any big damage to your Range Rover engine:
Best way to avoid the risks of Engine Damage is to ensure the service intervals are kept to 5000 miles or in summer and winter whichever comes first.
Leave engine to warm up and oil to circulate for a minimum of 7-8 minutes so there is no imbalance of oil circulation and that oil lubrication is thorough around the Engine.
Latest Range Rover Engines Fitted
A customer from Blackburn owning a Range Rover Sport 2011 3.0T DV6 called us with an enquiry to have an Engine Re-build after being quoted £18000+ from Land Rover dealership. We arranged recovery of the vehicle to our 4x4 Site.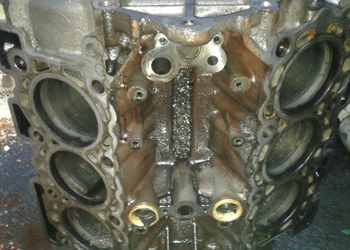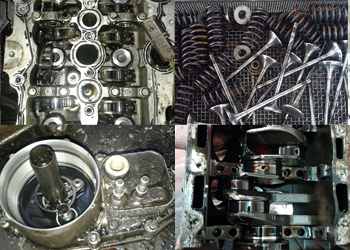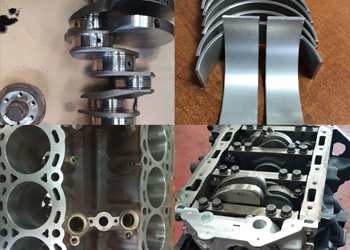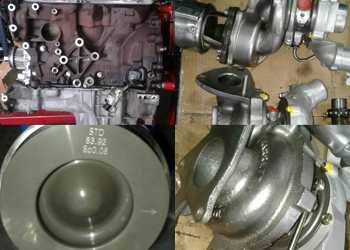 Range Rover Engine Rebuild and Replacement Process
The whole process of rebuilding the Range Rover engine is give below:
Once we had the engine removed and stripped down we found the Oil pump had failed causing the Crankshaft to crack.
This vehicle also suffered Turbo failure as a result of low oil pressure. Engine was disassembled & each part cleaned thoroughly to inspect.
The engine was rebuilt using a standard Genuine Crankshaft with Original Main and Big-End Bearings.
All of the connecting-rods were replaced with new piston with piston rings set. Front rear Oil seal along with a new sump gasket.
Cylinder Heads Were Pressure Tested to ensure the engine does not have any future Overheating/cooling issues.
New top timing chain tensioners and chain were replaced for both Cylinder Heads. New head Gaskets fitted. Main timing belt kit with tensioner and idler pulleys fitted.
This customer's Engine also had a Primary and Secondary Turbo fitted in the process along with 6 Fuel Injectors.
Valves were re-lapped and seals re-machined with new valve stem seals fitted. Camshafts were tested to ensure tolerances on Lubes and levelness is within limits. All Tolerances were checked and gauged.
Engine was Re-assembled, all bolts torqued to manufacturers specifications. Quality control checks carried out involving a series of tests prior to engine being re-installed in to vehicle.